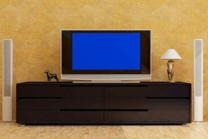 Call Us Now:
1300 885 429
0407 222 406
Request A Quote
TV & Smart TV Set Up
Got a new TV or Smart TV and setting it up looks like too much hard work or you've had a go and it's just not happening? Let us take the hassle out of it for you. We can unpack your new TV, attach the stand (or wall mount it - see TV wall mounting) and place it on your cabinet and then do a TV Set Up for you and show you the basic functions on the remote and if required, set up your TV with your DVD/Pay TV/Blu-ray etc (up to 4 components) and then all you need to do is sit back and enjoy your new equipment.
If you have a Smart TV and would like it set up with the internet, no problem, we can also install Data Points for you please see Data Point Installation.
Call us now on 1300 885 429 or 0407222406 or fill in our Website Enquiry Form for our TV & Smart TV Set Up service and you'll be watching your favourite show before you know it.
This Service Includes:
Connect DVD/Blu-ray/VCR, Pay TV Box, Game Console or PVR (4 Components Max).

Configure equipment to TV and program basic functions on the remote control.

Clean up work area and remove packaging etc.

Demonstrate and explain basic functions.
Not Included in Basic TV Set Up:
Surround Sound/Home Theater Set Up
As well as TV Installations, we also specialise in Antenna Installation & services, TV Set Up, Home Theatre Installation and Set Up, Speaker Mounting, Multi room Audio, Smart TV set up, Data point installation, GPO (Power Outlet) Installation, Game Console set up. Not sure if we cover what you need? give us a call and we'll be happy to help.
For our TV & Smart TV Set Up service in the Sutherland Shire and All Areas in Sydney Metro please contact TV Connect Plus on 1300 885 429 or 0407 222 406
For your TV set up, plasma TV set up and flat panel TV set up in the Sutherland Shire and All Areas in Sydney Metro please contact TV Connect Plus on 1300 885 429 or 0407 222 406