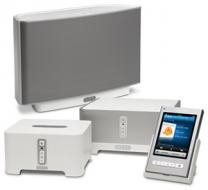 Call Us Now:
1300 885 429
0407 222 406
Request A Quote
SONOS
SONOS is an excellent versatile music system with a variety of options to suit all. We can supply and install all the SONOS products for you. If you would like some advice, have any questions or you are wondering how the system would work within your home (or workplace), give us a call on 1300 885 429 and we will be only too happy to arrange for one of our technicians to come and discuss your options with you.
SONOS allows you to control playing your music (from your PCs hard drive or thousands of radio stations worldwide available via the internet) with your iPhone, iPod Touch, iPad or Android Smarthphone (with the free SONOS app). These devices can control your zones to play different music in every room, play one song throughout your entire home in perfect synchronisation or just play music in one room. Each zone can be controlled separately and has its own volume control.
You can use the SONOS system either as part of your own home theatre or music system (using your own speakers etc) or purchase the SONOS free standing speakers which are available in two sizes (PLAY: 3 and PLAY: 5) – please see below.
Please note
To run this system you will need Internet access with a router.
Please see below an outline of the SONOS Products available: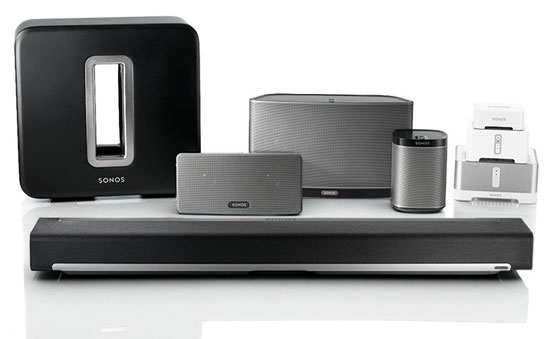 SONOS PLAY: 1, PLAY: 3 & PLAY: 5
The PLAY:1's custom designed 3.5" mid-woofer and tweeter, each with dedicated amplifier, deliver rich, powerful sound, with perfect hi-Fi Music (available in black or white). The PLAY:3 wireless music player (available in black or white) has 3 integrated speakers and amps that deliver an impressive sound from a single unit and the PLAY:5 (available in black or white) has 5 integrated speakers and amps and can deliver bigger sound. Just like the rest of the SONOS units it can be controlled from your iPhone, iPod Touch, iPad, Android Smarthphone and Tablet with the free SONOS app, or via the SONOS controller or your laptop/PC. You can hook up to 32 SONOS CONNECTs together for serious multi room audio. Both the PLAY:3 and PLAY:5 can stream internet radio or your own music collection from your Computer (including iTunes) or NAS drive.
You can set the player to wake up to the sound of your favourite music or radio station.
Please note that if this is your only SONOS product (a single player) you will need to have either and Ethernet cable hardwired into it or purchase the SONOS BRIDGE to enable it to become wireless.
SONOS BRIDGE
Plug your BRIDGE into your router and it will instantly activate the wireless network. All your SONOS devices will work wirelessly and can be put anywhere in your house.
SONOS CONNECT
The SONOS CONNECT is a non-amplified version of the CONNECT AMP (see below). It connects to your existing audio equipment (home theatre or stereo system). It was designed for rooms that already have an audio system. You can plug into just about anything from an iPod speaker system to a full surround sound home theatre system. At the back of the SONOS CONNECT you will find analogue stereo inputs/outputs, two Ethernet connections and two digital audio outputs.
SONOS CONNECT AMP
The SONOS CONNECT AMP is an amplified version of the SONOS CONNECT, it has a built in 55W per channel amplifier so all you have to do is add speakers, no stereo needed.
The SONOS CONNECT AMP has a state of the art digital amplifier that delivers audiophile quality room filling sound. The amplifier has excellent audio quality without crackles, hums or hisses.
SONOS PLAYBAR The SONOS PLAYBAR has nine speakers and fills your home with full theatre sound for TV, Movies, music and video games. It compliments HD TV with richly textured Hi-Fi Sound. The SONOS PLAYBAR wirelessly streams music and wirelessly syncs with other Sonos products.
SONOS SUB The SONOS SUB fills an entire room with deep sound that lets you hear and feel every chord through your bones! It integrates with the Sonos system. The SONOS SUB can be place anywhere in the rooms even lying flat under a coach.
For all your SONOS Audio Multi Room System requirements in Sydney Metro and the Sutherland shire, call TV Connect Plus now on 1300 885429