TV, Home Theater & Antenna Installation in Sydney & Sutherland Shire
TV Connect Plus services the Sydney Metro Area. We are dedicated to providing your home and business with a quality, reliable service at a reasonable price.
We care about our customers, we pride ourselves on our customer satisfaction in addition to our quality service without paying over the top prices. Are you sick of the lack of customer care in business today? We want to walk away knowing that you will have no hesitation in using us again or recommending us to others.
We keep our customers informed as to the approximate time our technicians can be with you, we will work round you as best we can and if it's helpful, we'll call you when we are on our way so you can get back if you're out and have things to do.
We do onsite quotes for jobs that might be not straightforward enough to quote over the phone. If you have new equipment and you can't seem to get sound and/or a picture, please give us a call and we might be able to guide you through it on the phone.
Do you need some advice on what type of equipment will best suit your needs? Please give us a call and we'll be happy to advise. Call us on 1300 885429 or 0407222406 , email us at info@tvconnectplus.com.au or fill in the Request A Quote Form on the right.
We specialise in
Antenna Installation & services, TV Installation & Set Up, Home Theatre Installation & Surround Sound Optimisation, Set Up & Supply , Speaker Mounting, Audio Multi Room Supply & Installation, Smart TV set up, Data point installation, GPO (Power Outlet) Installation, Cinema Chair Supply & Installation, Set Top Box Installation, Projector & Screen Installation

We can advise and supply on a wide range of Home Entertainment equipment:
TVs - Speakers - Amplifiers - Home Cinema Seating - Media Streaming - Blu-ray - DVD Players - Sub Woofers
---
Free Flush Mount Bracket with TV Wall Mounting
With our TV Wall Mount service we offer a free flush mount wall bracket. This is a great saving! Please either email or call us and make the most of this saving now!
---
Audio Multi Room - Control Music in Your Home by your Iphone, Ipod Touch or Ipad!
Technology continues to impress and audio multi room distribution, is no exception! With Casa Tunes & Sonos, you can have different music playing from various zones within your home at the same time.
You can be chilling in the bath to relaxing music whilst the kids are bopping round the rumpus to the latest pop tunes, the options are endless and each zone can be controlled from your iPhone, iPod Touch or iPad. No more arguing over who is playing what in which room, you can all play your own thing in your choice of room at the same time.
---------------------------------------------------------------------------------------------------------------------------------------------------------------------
NEWS..NEWS..NEWS..NEWS..NEWS..NEWS..NEWS..NEWS..NEWS..
Samsung are launching new wi-fi speakers similar to the Sonos system. They are the M5 and M7 Wi-Fi speakers, which you can install quickly and control via your smartphone.
The M5 is the smaller of the two speakers (343 x 168 x 114mm and 2.3kg), while M7 is the bigger version (402 x 194 x 137mm and 3.8kg).
To use the new Samsung Sound speakers, at least one will have to be plugged into your router or you can buy the Samsung Sound Hub ($79), a wireless bridge that connects the speakers to your network. Only one speaker needs to be in range of the hub and the rest will communicate with it.
If you have a Samsung app control, this can be used to control the music or you can do it via Bluetooth and NFC to take over any speaker and stream music to it directly from your phone.
The speakers can also be hooked up to any Samsung Smart TV (2014 models only) over Wi-Fi or Bluetooth (selected 2013 and 2014 models) and function as front, rear or surround speakers, giving you a another perfect wireless audio system.
Call TV Connect Plus now for a free onsite quote or advise 1300885429 or 0407222406
For all your audio visual installation needs in the Sutherland Shire and All Areas in Sydney Metro please contact TV Connect Plus on 1300 885 429 or 0407 222 406
Request A Quote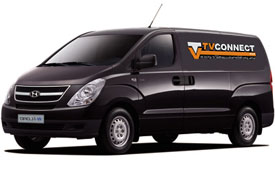 we are...
Professional
Reliable
Honest
Competitively Priced
Trust us to get the job done!
What Our Customers have to say...
---
I would like to say I was very impressed in the service your company offers. Fantastic service and efficiency.
Joe Gagliardi
Carlton
---
Thank you so much for your friendly, efficient and timely service.
Angelo Tseros
Freight Management Systems
---
I received your TV wall mounting service last week which is fantastic. Thank you for doing an excellent job.
Ryan Yuan
Breakfast Point
---
To read more go to our
Testimonials Page