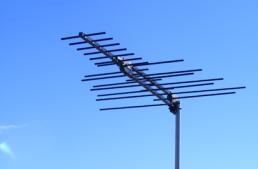 Call Us Now:
1300 885 429
0407 222 406
Request A Quote
TV Antenna Installation Services Sydney
Is your TV signal poor or non existant? Whatever the problem is, we'll fixt it!
If your TV isn't producing a good picture anymore, it may be that your antenna needs replacing, or there is a loose connection or you need a masthead amplifier to boost the signal. Whatever your problem, we can help. Just moved and there is no antenna? we can help. Building a new house and need an antenna? we can help. Call us now on 1300 885 429 or 0407222406
We were on the NSW Government's list of approved antenna installers with the recent Digital switchover. We use quality products and you can be rest assured quality workmanship and a friendly, professional service by our friendly, professional technicians. Customer satisfaction is our priority.
Our antenna services include:
Installing whole antenna systems (antenna, mast, outlet, cabling)

Antenna Upgrade (Installing new antenna to old mast & Cables)

Installing Additional Outlets

Antenna Repair (if possible)
As well as antenna installation and services, we also specialise in TV wall and ceiling mounting, TV Set Up, Home Theatre Installation and Set Up, Speaker Mounting, Audio & Video multi room distribution, internet TV set up, Data point installation. Game Console set up. Not sure if we cover what you need? give us a call and we'll be happy to help.
For our Antenna Service in the Sutherland Shire and All Areas in Sydney Metro please contact TV Connect Plus on 1300 885 429 or 0407 222 406
For all your antenna installation and antenna signal testing in the Sutherland Shire and All Areas in Sydney Metro please contact TV Connect Plus on 1300 885 429 or 0407 222 406