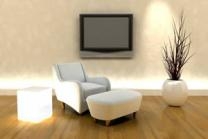 Call Us Now:
1300 885 429
0407 222 406
Request A Quote
TV Wall Mounting, TV Installation & Set Up
TV Wall mounting is a great space saving option as well as giving a slick stylish look. There are a large range of TV wall brackets available from flush mount (we include these free with our TV Wall Mounting service), Tilt and articulated arm which are ideal if the TV needs to be directed into other areas of the room, they also enable the TV to go across the corner of the room if required. The options are endless thanks to the slim design of modern TVs.
We can also supply a range of TVs, so if you have an idea of what you would like, email us on info@tvconnectplus.com.au and we can give you a price to supply and mount the TV. What could be easier? you don't even have to leave your home.
Our TV wall mounting service also includes the basic set up of Smart TVs.
Don't need your TV mounting but would like us to install and set up your TV on a cablnet, no problem.
Our prices for our TV Wall Mounting service are on a sliding scale dependent on the size of your TV.
TV Wall Mounting Service Includes:
Free Flush Mount Bracket

Cables to be concealed where possible (up to standard 1.2m)

Connect DVD/Blu-ray/VCR, Pay TV Box, Game Console or PVR (4 Components Max).

Configure equipment to TV and program the basic functions on the Remote Control.

Demonstrate and explain basic functions.
Basic TV Installtation Service Includes:
Lifting TV onto Cabinet
Connect DVD/Blu-ray/VCR, Pay TV Box
Configure equipment to TV
Demonstrate & Explain basic functions
As well as TV installations, we also specialise in Antenna Installation and Services, TV Set Up, Home Theatre Installation and Set Up, Speaker Mounting, Audio & Video multi room distribution, internet TV set up, Data point installation. Game Console set up. Not sure if we cover what you need? give us a call and we'll be happy to help.
For our TV Wall Mount & TV Installation service in the Sutherland Shire and All Areas in Sydney Metro please contact TV Connect Plus on 1300 885 429 or 0407 222 406